PRESERVE YOUR FAMILY HISTORY
Photo Scanning
150-Year Archival Photo Printing
200-Year Archival Family History Book Design & Printing
400-Year Archival Family History Book Design & Printing
For The Pittsburgh PA Region
FREE
CONSULTING TO
EXPLORE YOUR
OPTIONS
CALL US TO DISCUSS YOUR IDEAS
OUR SKILLS BELOW
BRING BOOKS AND PRINTS TO LIFE
Large Phot0
Collections
We encounter many people who have hundreds of old and small photos from earlier than 1900 to the 1950's, some of which are faded beyond recognition. We specialize in scanning at a $2 price point per scan that includes free restoration of resolution and free tone and color optimization with a final scan size of 70 megabytes for printing in MUCH larger sizes up to 16x20. Sometimes these type of small photos come to life printed big.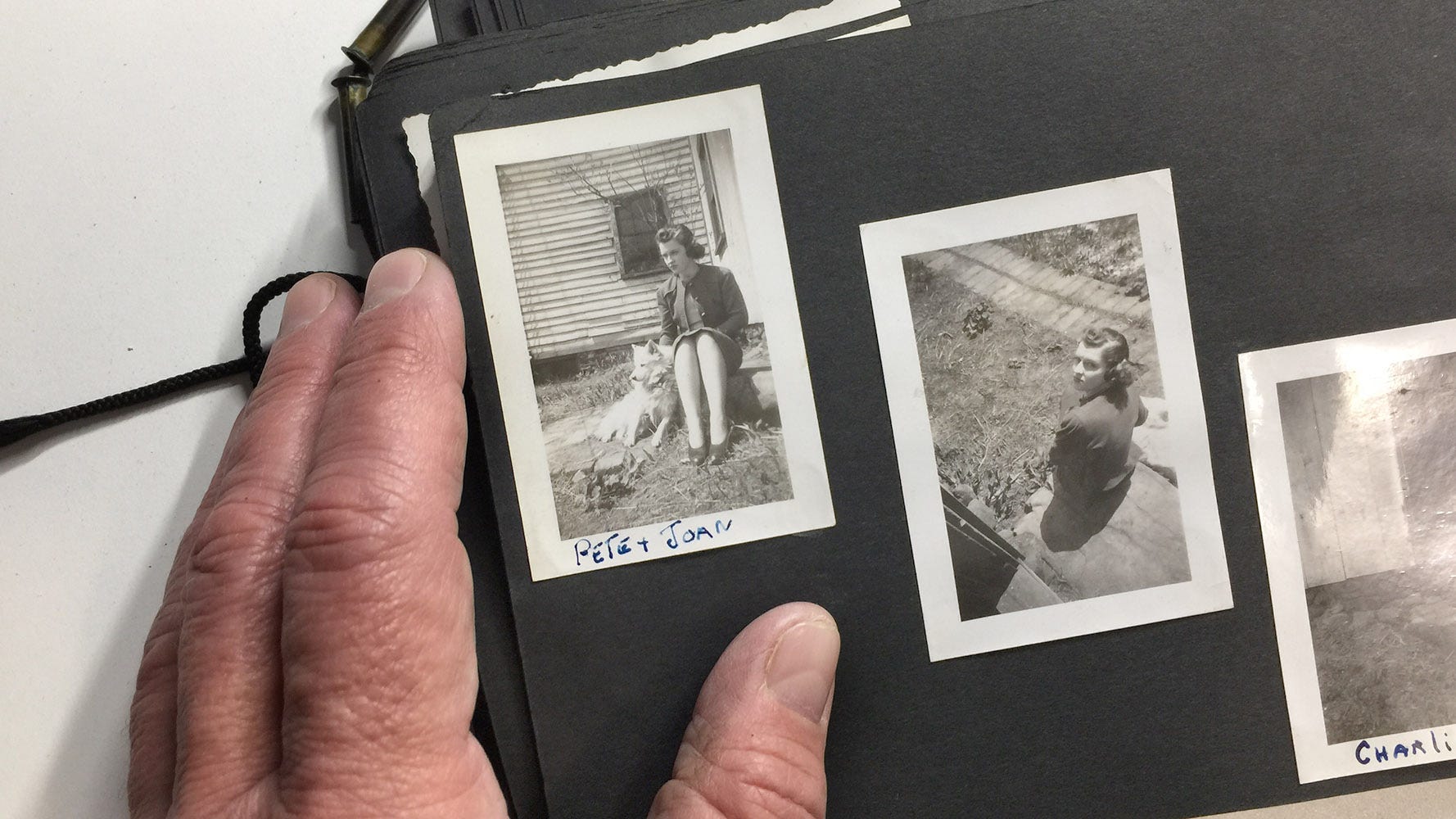 Archival Photo Prints & Family History Books
For the Pittsburgh Pennsylvania region, we provide reasonably priced, high-end custom archival photo printing done on museum rag cotton paper or archival gloss papers. Our printing services are most appropriate for people who are looking to frame prints for gifts or home decor.

Our other specialty is comprehensive archival book projects where people benefit from our experience to guide them through complex and comprehensive family history book design and printing. Our per-page price for design and printing makes more involved book projects affordable. 2 FREE PHOTO SCANS/PAGE INCLUDED WITH ALL BOOK ORDERS.

If this is of Interest give us a call and describe what you're trying to accomplish. We'll get you started in the right direction no matter if you go with us or use another internet book printing provider.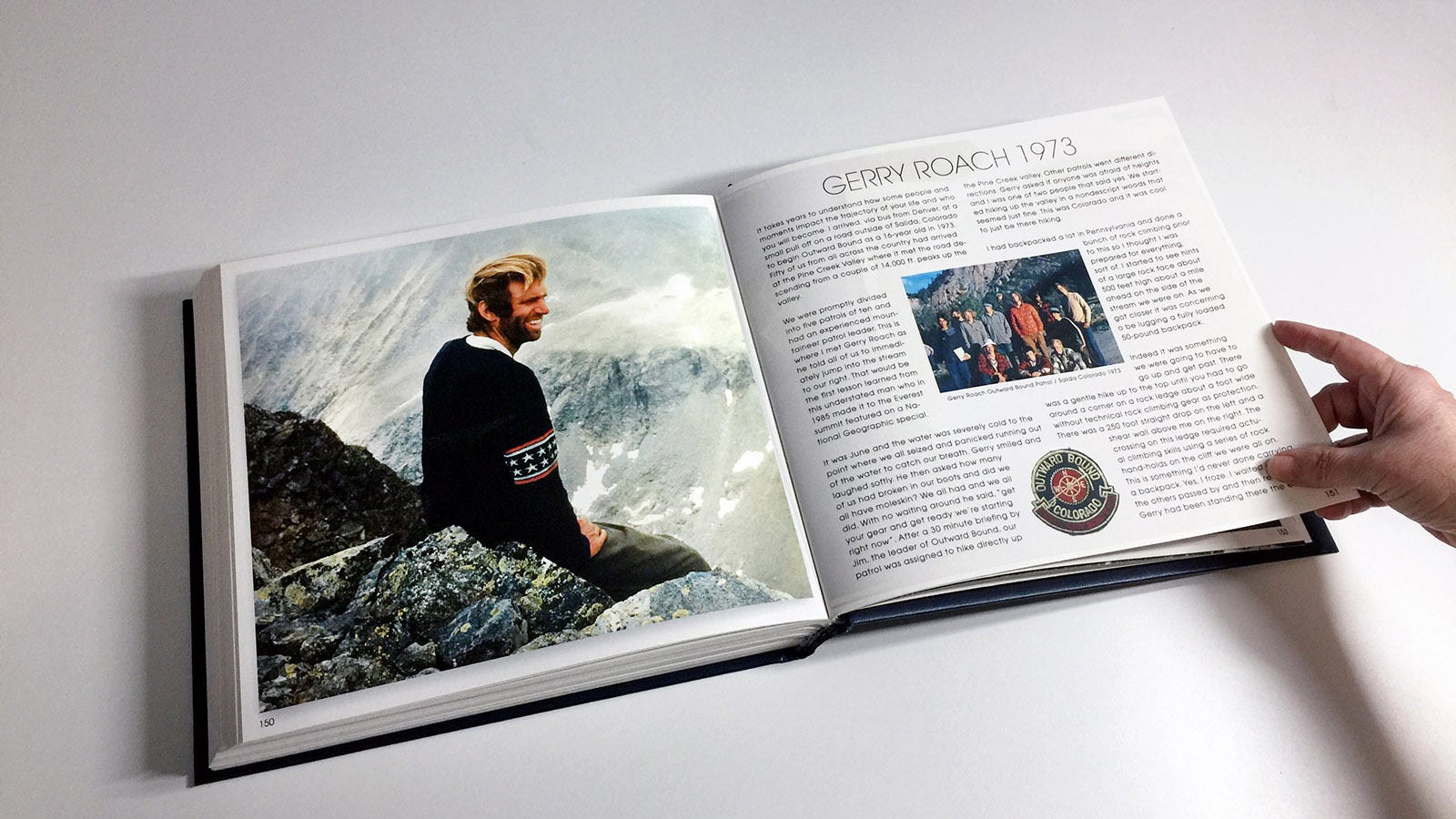 Photo Printing Options
This is one of the highly unique styles we offer for printing your small old photos. This is an 18"x22" print of the previous photo. The print is the entire white background and the scanned photo.

In this scan we included the border of the photo, optimized the tone/color, digitally 'floated' the photo on a white background and gave the photo a drop shadow to make this digital end result truly something special for printing. This style looks beautiful framed and matted.

ORDER PRINTS AND THIS STYLE IS FREE.
It Starts With
Scanning & Color Restore
Scanning requires professional skills and decades of experience to deliver exceptional color quality for printed photos and books. We scan each photo or document and spend time to get color and tonal quality just right. Scans can be done on all sizes of slides, negatives, photos and documents. The photo of my little brother and the cowboy was scanned from a 35mm Kodachrome slide at a 16x20 resolution. We're the best at delivering advanced color quality by spending time optimizing each scan.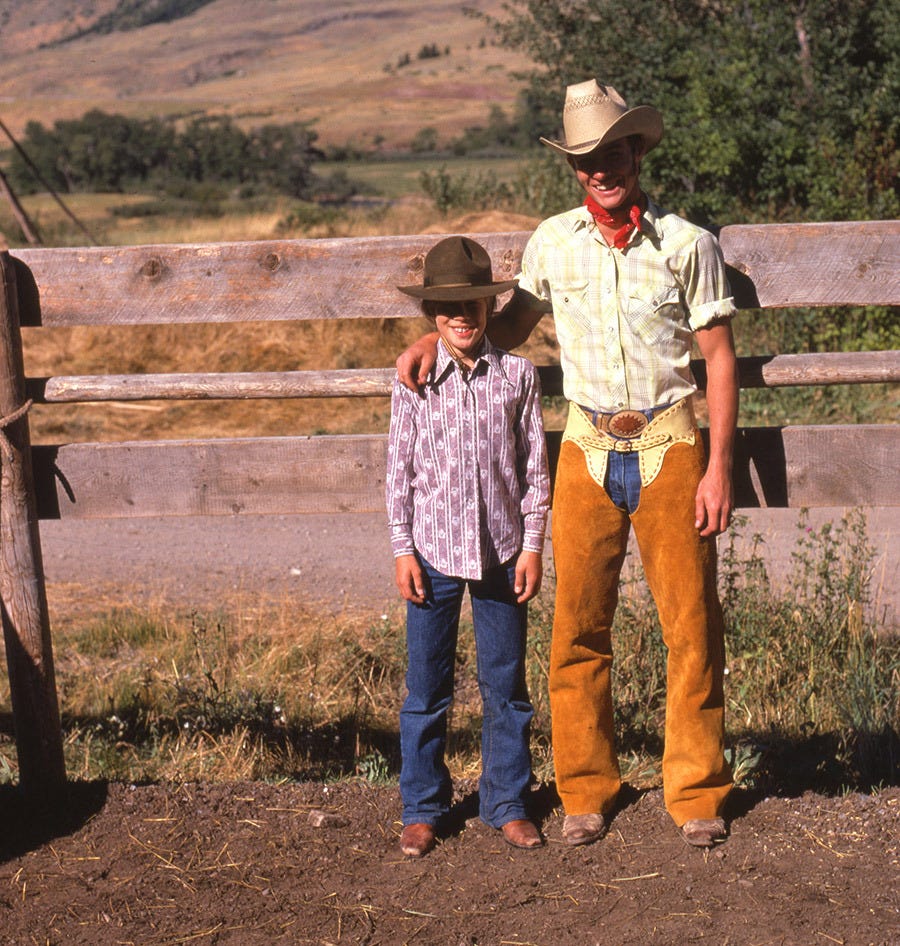 Problem -
Photo Cracks
This photograph had both cracks and image grit on the soldier's face. The overall tonal quality and color was very good.
Restored -
Photo Cracks
A good photograph is restored to original form, with no cracks and smooth and pleasing flesh tones. A 1-hour restore project.
Problem -
Color Fading
Severe color fading like this is caused by other items on top of the photograph blocking sunlight over a long period of time. In this case the photo had a book and newspaper on top of it for many years. The color information is still there but needs to be extracted via advanced digital color science techniques.
Restored -
Color Fading
There were about 25 steps to extracting color and restoring the tonal range of this photograph. Layers are stacked to take dim color information that is then gradually built to a near-original form. The large black areas, where the books were on top, are relatively easy to correct. The most difficult part of this project was to build accurate flesh tones with facial structure and contour. The information is there to do this, but it takes great skill, patients and a lot of time. This project took 6 hours to complete.
Problem -
Image Aging
This is a detail of a much larger photograph that came to us in pieces. The photograph parts were scanned individually then pieced together digitally to match the correct position.
Restored -
Image Aging
We then copied similar areas of the photos and cut and pasted to fill in missing areas. For instance, the shutters on the front of the building at the top left were rebuilt by copying the single right hand shutter then flipping it horizontally to begin to create the left hand shutter. This is meticulous work and demands a lot of creative approaches and techniques to complete. Total time on this project was 10 hours.
BOOK
PAGE DESIGN
LEFT
Sometimes one image can capture the feel of years of living. One of our philosophies with book design is that bigger is better and less is more.

Here one photograph of my grandmother and great grandmother is printed as an 12x12 sized page on the left hand side of a double-page spread. Versus including many photographs of my grandmother, this one captures dimensions of our family life together by using only one photograph.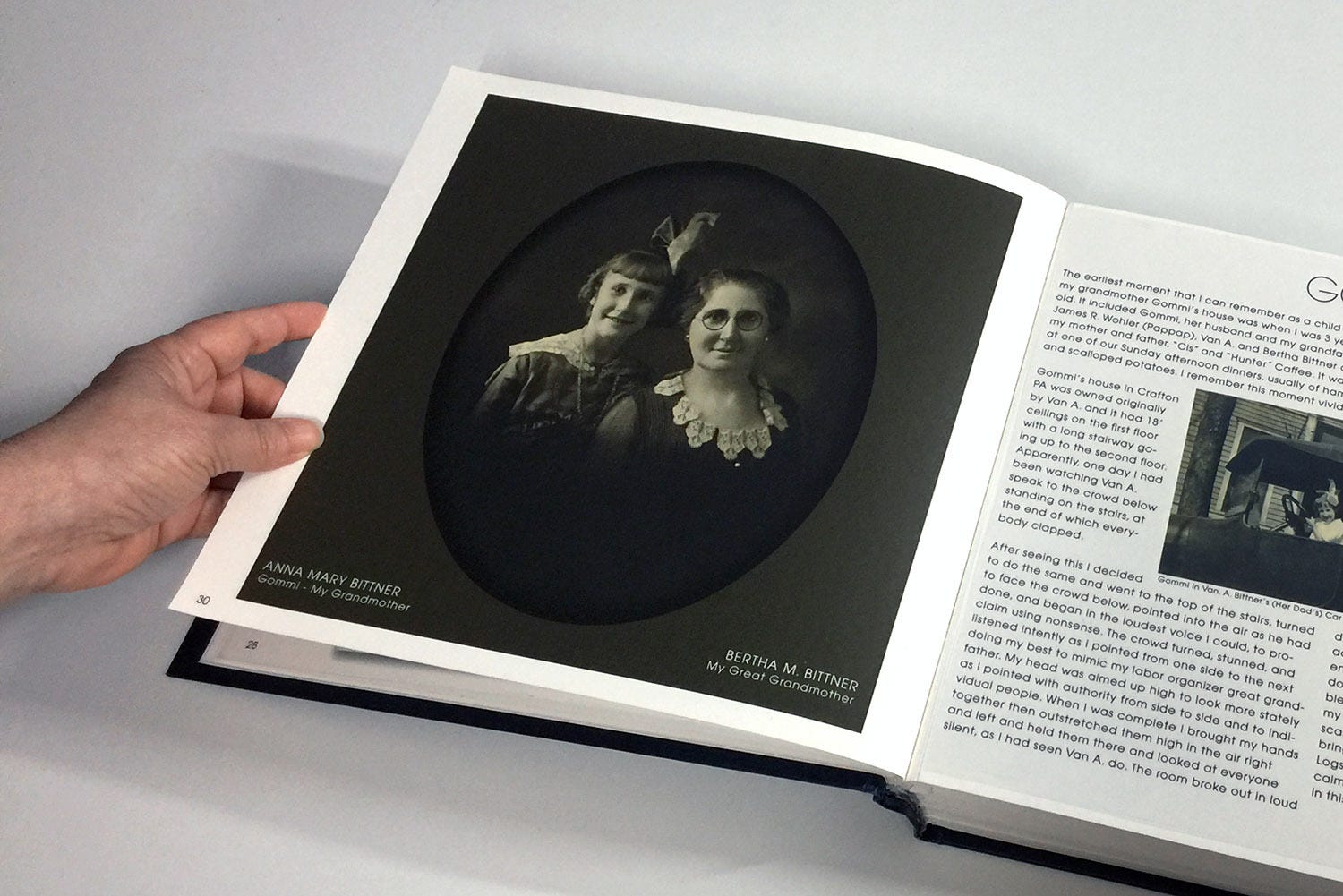 BOOK
PAGE DESIGN
RIGHT
One of the most important things we offer in book design is writing more significant stories for you that capture a unique thought or moment in life. In the example here, that writing is placed elegantly on the right hand side of a double-page spread in a book. We have a unique internet screen sharing process to accomplish this with you while you talk about individual photos.

Working with you as writers, our goal is to help you succeed at telling the story of your life by guiding you on the conceptual options for each written page. This creative relationship gives you a chance to end up with a much more meaningful portrait of your life. Books with more significant written stories leave behind a unique intimate in-depth record of important moments in your life for future generations to experience. Writing price offered per page.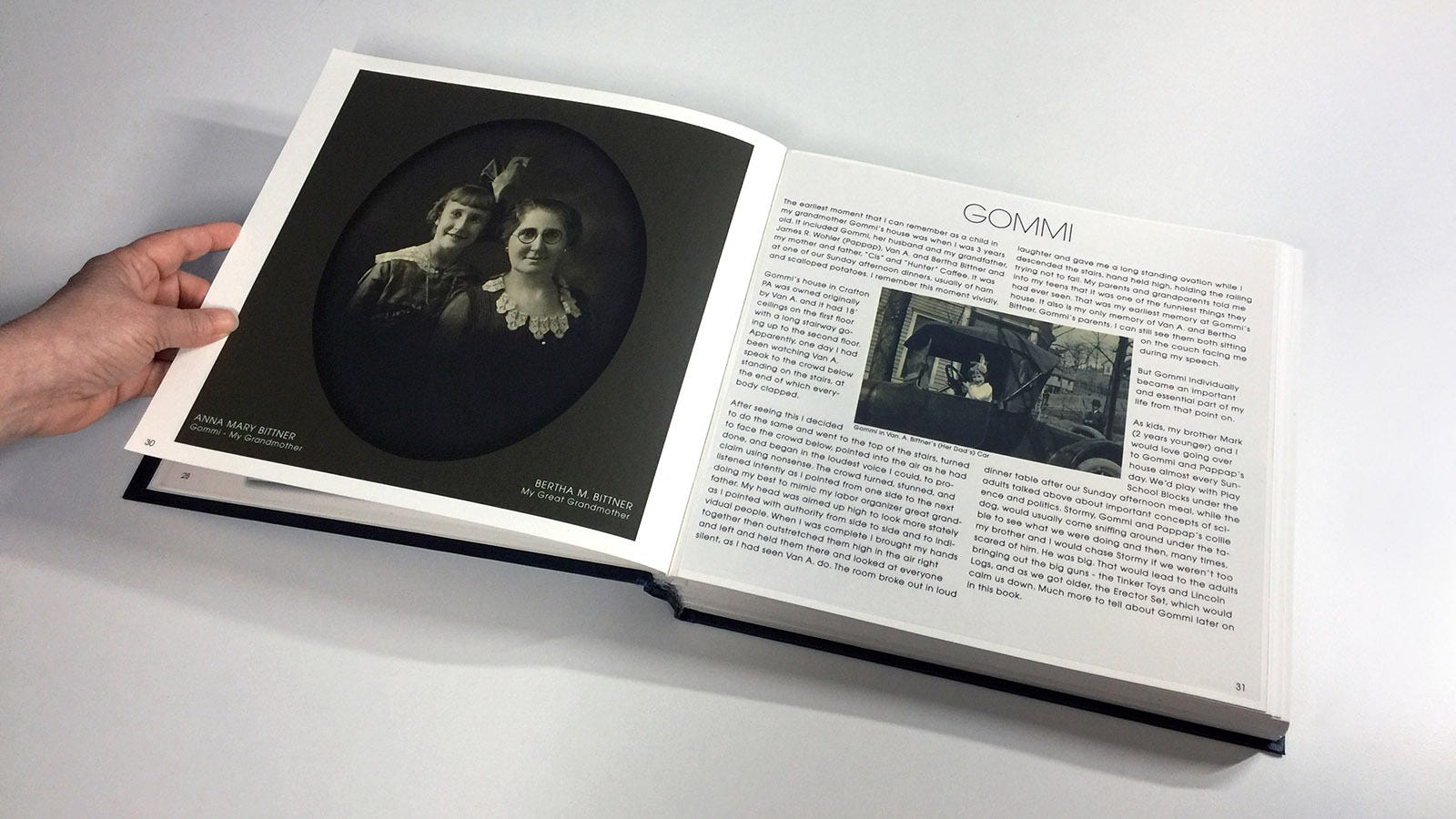 WE PROVIDE PERSONAL SERVICE
Check out the OUR PROCESS menu tab for more info on how we work with you.
TELL US ABOUT YOUR PROJECT